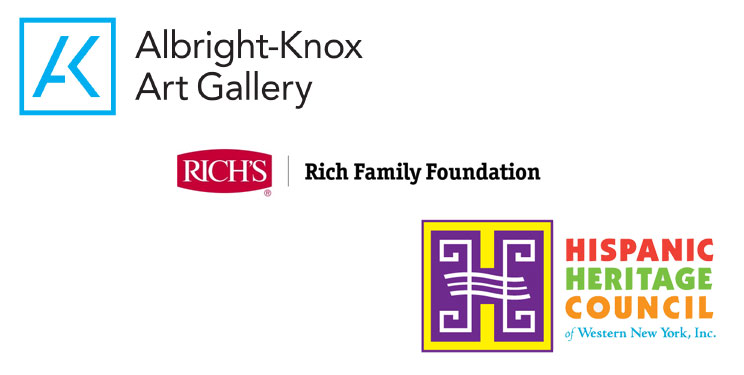 Buffalo, NY – In 2016, The Rich Family Foundation made a $1 million gift to the Albright-Knox Art Gallery; $500,000 to be allocated to the physical transformation of the Albright-Knox campus, a project called "AK360," and $500,000 to establish an endowed Rich Family Fund for Community Access. Today, The Rich Family Foundation and Albright-Knox are pleased to announce the first public art installation commissioned through the Rich Family Fund for Community Access. In partnership with the Hispanic Heritage Council and M&T Bank, the Albright-Knox has commissioned artist Betsy Casañas to create an outdoor mural on Buffalo's west side to celebrate the cultural significance of the Latino and Hispanic populations in the Niagara Street corridor. The mural will be installed at 585 Niagara Street and is expected to be completed by late August.
"The Hispanic community and Rich's have been neighbors on the West Side of Buffalo for decades and we are thrilled to celebrate the diversity of our community in this way," said Mindy Rich, Vice Chair, Rich Family Foundation and Rich Products Corporation.
The Niagara Street corridor is home to many communities, all of which contribute to the cultural diversity and social fabric of the city. This particular public art project shines a light on the Latino and Hispanic communities. "Highlighting the positive aspects of Latino culture and heritage has always been part of our mission," said Casimiro D. Rodriguez Sr., President, Hispanic Heritage Council. "This mural not only honors our history, but will serve as an inspiration for our future. As an artist of Puerto Rican descent, Betsy brings tremendous insight and passion to the project and we feel honored to be working with such an artist of international reputation."
Artist Betsy Casañas is a leading voice among the internationally recognized Mural Arts Philadelphia program and was chosen because of her deep experience working with diverse communities and her unique mural design practice. Casañas uses parachute cloth as her canvas, painting on small sections then assembling the large pieces of fabric and adhering the finished design to the building. This process allows the mural to be prepared off-site, with opportunities for the public to participate in the process. It also eliminates the dependency on good weather, which makes the process more efficient, and produces a highly durable finished product that is able to withstand prolonged exposure to varying weather conditions and sunlight. Casañas engaged local artists Claudia Carballada, Muhammad Zaman and Avye Alexandres as her assistants, among others, to integrate this new mural technique into our WNY artistic culture.
To ensure the mural echoes the voice of the Niagara Street Hispanic community, Albright-Knox worked with the Hispanic Heritage Council to solicit input from business leaders and citizens to share ideas and influence the overall design. The vibrant colors and multicultural imagery will honor the Niagara Street Corridor's development, respecting our agricultural and industrial past and present and our shared aspirations for a dynamic and resurgent future. While it's imperative that the Niagara Street community is accurately represented in the mural, Albright-Knox and the Rich Family Foundation also wanted the community to be actively engaged in the installation itself. By hosting community paint days and involving local artists, Casañas shared ownership and creation of this unique artistic and cultural experience with the West Side community.
"This mural illustrates the exciting, positive impact public art can have in our neighborhoods," said Peggy Pierce Elfvin Director of the Albright-Knox Dr. Janne Sirén. "Works of public art like this one have tremendous power in bringing together partners and collaborators to directly benefit, beautify, and strengthen our communities. They shine a spotlight on our County as a creative, vibrant place that is on the rise. The Albright-Knox is proud to facilitate this kind of transformative work in Western New York neighborhoods."
Public Paint Days
Public paint days were held on July 26 and 27 at the mural site and August 1-3 at the Central Branch Library. The public is invited to view the installation in progress on the afternoon of the 15thAnnual Puerto Rican and Hispanic Day Parade of WNY on Saturday, August 19, and to attend a ribbon-cutting celebration on Friday, August 25, at 11:00 am at the mural site at 585 Niagara Street.
About Rich Family Foundation
Established in 1961, Rich Family Foundation is a philanthropic arm of Rich Products Corporation, a family-owned food company. In addition to financial support, Rich provides in-kind donations and builds deep relationships with community agencies through advocacy programs and extensive volunteerism. As a leading, worldwide supplier to the foodservice, in-store bakery and deli, and retail marketplaces, Rich's is regarded throughout the industry for its food ingenuity and commitment to customer solutions that set the standards for quality and convenience.
About the Artist: Betsy Casañas
Recipient of numerous community and academic awards, Betsy Casañas' work in Latino and international communities is distinguished amongst her peers and colleagues. As an artist, educator, and social activist, Casañas' practice reflects historical and contemporary information to empower the communities in which her murals are placed. Actively exhibiting her work in solo and group shows, she has produced over 40 murals and mosaics around the world. She is co-founder of the grass roots arts initiative, Semilla Arts, and is the owner and manager of A Seed on Diamond Gallery; both of which serve as cultural institutions enabling under-served communities through visual and performing arts.
About the Public Art Initiative
The Public Art Initiative is an innovative partnership between the Albright-Knox and Erie County established in 2013. The City of Buffalo joined the partnership in 2014. The goal of the Initiative is to create spaces of dialogue where diverse communities have the ability to engage socially, actively respond, and cooperatively produce great public art that is capable of empowering individuals, creating stronger neighborhoods, and establishing Western New York as a critical cultural center. The 2016-2017 mural program is also supported by the New Era Cap Foundation.